As part of the commemorations marking the WW1 Gallipoli campaign centenary,  The Last Post project's Executive Producer Virginia Crompton looks at how the project is marking this important milestone through education and music
What's in a name?
Ҫanakkale. It's the Turkish name for a battle which claimed the lives of tens of thousands of young men from Turkey, Germany, Austria, Hungary, Britain, India, Nepal, Australia, Ireland, New Zealand, France, West Africa and Newfoundland one hundred years ago.
The Allies' aim was to capture the capital of the Ottoman Empire, Constantinople. The Gallipoli campaign, championed by Winston Churchill, failed.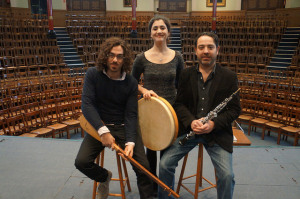 This year, The Last Post project is marking the Gallipoli / Ҫanakkale centenary with a Turkish song, which remembers the battle. Ҫanakkale Türküsü is performed by British folk musician Paul Sartin and Turkish musicians Cigdem Aslan and Tahir Palali.
It is a mournful lament, remembering the lost men, fathers, sons, and husbands, and their families left behind, 'Willow trees in Gallipoli, beneath you lie brave heroes.'
We met at Harrow School's Speech Room to film Cigdem, Paul and Tahir performing Ҫanakkale Türküsü. It will be posted online to make the song easier to learn for Last Post week, from 20-26 April.
It was the first time I had heard Ҫanakkale Türküsü. In Turkey it is known by everyone, in singer Cigdem's words, "from seven to seventy" – equivalent in some ways to Tipperary.
Folk traditions
Paul, Cigdem and Tahir have created a beautiful and haunting version for the Centenary which combining music from the two traditions, weaving the sounds of the oboe playing the Last Post between the strands of the Turkish melody and Cigdem's remarkable voice.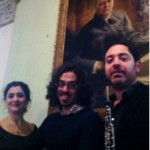 Young men who had attended Harrow paid a terrible price during the war. 644 lost their lives.  There was a parallel experience in the Ottoman Empire – where pupils of elite schools also took pride in fighting for their country. Galatasary High School was said to have no pupils graduate in 1915 as every young man was either fighting at Gallipoli, or had already died there.
It isn't easy to reach back to the Ottoman archives and recover the experience of those young soldiers – even for modern Turkish families and researchers. During the battle a young Ottoman solider named Mustafa Kemal rose to prominence. He later founded the state of modern Turkey and became known as Atatürk. Among many reforms, he introduced a new alphabet, meaning of course that most modern families can no longer read the archives of 1915.
Filming over, we looked up and saw, gazing down on us, one of Harrow's most famous pupils, Winston Churchill. It's hard not to wonder what he would make of this song.
I think he would find it hard to disagree with Cigdem Aslan, "It's about reconciliation. That's why I'm doing it. One hundred years on the people who fought each other back then can get together and understand each other through music."
Take part in The Last Post
The Last Post project combines music and memory and supports groups to find their own heritage, hold events and play the last post themselves.
This year we have archive material and songs from the era including the British 'hit' of 1915 Pack up your troubles and this very special Turkish song Ҫanakkale Türküsü.
The Last Post is open to everyone.
It's easy and simple to take part.
Register your interest online and we'll send you our resource pack with an introduction by Michael Morpurgo. You can claim expenses towards your event and your Last Post plaque. www.thelastpostproject.org.uk.