During the last year Peterborough Cathedral has been busy undertaking essential repair work on three areas of the 900 year old building, thanks to grants from the First World War Centenary Cathedral Repairs Fund.
The Victorian tesserae (mosaic) floor near the High Altar had been identified as being in very urgent need of repair in a quinquennial inspection carried out in 2011. Due to the tiles lifting and becoming uneven, the area had become in accessible to visitors and was roped off.
Now, after many months of painstaking work, the floor just awaits a final polish before being used again. Over 30,000 small tiles have been set or reset by the specialist craftspeople of Cliveden Conservation and the beautiful Cosmati-style geometric patterns in red, green, cream and white have been restored to their former glory.
The grant has also enabled urgent repairs to the Cathedral's exterior stonework and two deteriorated and weathered gables have now been made safe. The specialist stonemasons of John Lucas Ltd have worked at high level on scaffolding structures around 40 metres high to replace and re-point stones, remove hard cement capping and add lead capping to exposed areas. They also carried out glazing repairs to some of the Cathedral's clear glass windows.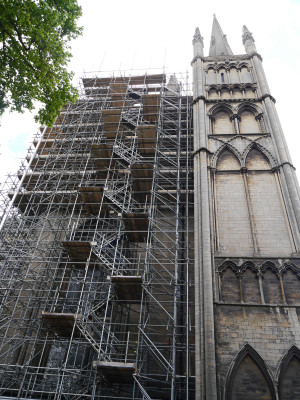 The Government's decision to offer £20 million to the nation's cathedrals for repairs as part of the First World War Centenary Commemorations has been warmly welcomed by those caring for these treasures.
The Dean of Peterborough, the Very Revd Charles Taylor, said: "We are very conscious that cathedrals are custodians of a priceless national heritage but the local community cannot shoulder this burden on its own. Although these works were urgent, and indeed overdue, they could not have been undertaken without financial assistance from the grant scheme. It is not just the Cathedral community but also the nation who has reason to be grateful."