Returning from Rio yesterday, after experiencing my first Paralympic games as Culture Secretary and flying the flag for Britain in Brazil, has left many treasured memories. I've had an incredible visit, especially in celebrating the formidable performance of our ParalympicsGB team, who I'd like to congratulate once more on their fantastic medal success.
During these Games I have been reminded of the power of sport. Not just in its ability to transform lives and bring communities together, but also in its capacity to act as a backdrop for representing Britain: a forward-thinking, outward-looking country that's full of talent and determination.
There is no greater example of this than in how ParalympicsGB came together. From nutritionists to coaches to the support of our sports bodies, and not forgetting National Lottery players: thousands of people from all walks of life and from all over the country joined forces to help our Paralympians in Rio achieve success that builds on the legacy of London 2012.
As I write this I think of Marie Johnson from Stafford, a volunteer I had the pleasure of meeting in Rio, who went through a rigorous selection process to play her part in the games. The commitment and dedication of Marie and volunteers like her is deeply appreciated.
Another highlight of my time in Rio was being able to see first hand how the British Council's Try Rugby programme (run in partnership with Premiership Rugby and local partners SESI) is using sport to help disadvantaged areas in Brazil, emphasising again how the power of sport can help to change lives.
Beyond the medals
Of course, it would be remiss of me not to mention the warm welcome extended by Brazil to myself and others, which ensured people got together to discuss forging closer ties.
It is a source of immense pride for me to be representing what we have to offer to the world and beating the drum for Britain overseas. This underpinned the many meetings I held during my stay, including with Brazilian Sports Minister Leonardo Picciani (pic below), to discuss opportunities for future cooperation between our two nations.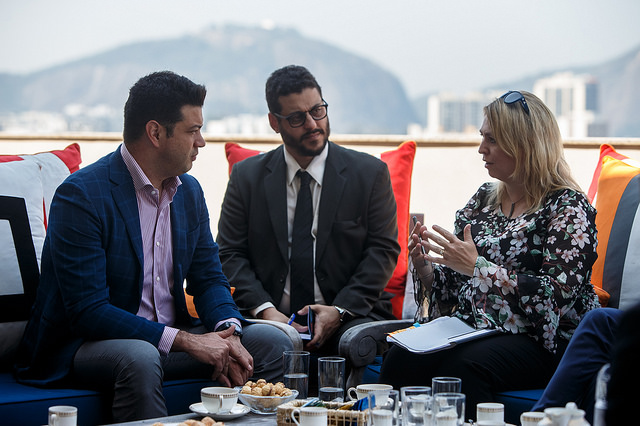 At British House we were thrilled to showcase the best of British culture, science and business to international stakeholders, industry leaders and decision makers. I'm sure our 147 Paralympic medals tally went some way to showcasing our sporting excellence.
It is in this spirit that I look forward to working with my Brazilian counterparts in future, as we address the global issues affecting sport, creativity and culture.
National celebrations
The 2016 Paralympics underlined what is and what will continue to be great about Britain. We have proven that we can compete with sportsmanship, win with grace, and be a leader on the world stage.
I can't wait to mark Team GB and ParalympicsGB's achievements at home with the upcoming parade in Manchester and celebration in London next month. These events will be fitting tributes to our Paralympic and Olympic heroes, which we can all look forward to and enjoy.