There have already been a lot of words spoken, written and recorded about why Coventry and not Swansea or Stoke or Paisley or Sunderland, and on the night of the announcement there was neither the time, nor probably the expectation to give a line by line report against the criteria in the Government's guidance notes. So in the end, inevitably, it came down to a soundbite: taking all the criteria together, it came down to a cultural decision.
Strong bids
Almost like the old cliché about not knowing much about art, but: so it is with culture. There was something about the bid, the people, the programme the plans, the city, the civic engagement and local support that just edged out the other bidders and made Coventry the Independent Advisory Panel's unanimous recommendation.
There is no doubt that each city could have delivered credible years and that made it a difficult decision but, as I also said to each city team, unfortunately, there could be only one winner.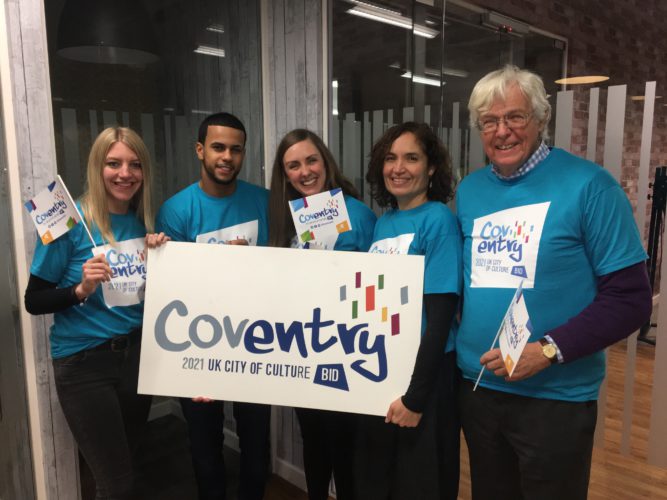 Community spirit
Among all the words there was also the thanks, not just to those connected to Coventry's bid, but for all those who worked long and hard in each of the bidding cities. My hope is that most of the work in building partnerships, developing collaboration and sharing ideas will lead to other things that will demonstrate the deep reservoir of cultural talent across the UK.
Above all though, the process, for 2013, 2017 and now 2021 has once again highlighted the strength of commitment, local pride and community spirit that exists within our four nations. Not least of these is the willingness to volunteer for public service and on that theme I would like to add a few more public words of gratitude to the Independent Advisory Panel, listed below.
It is quite a journey to follow first eleven, then five cities as they develop from their initial submissions, short-listed bids and then the live presentations in Hull. The paper trails were as long as the journeys to visit the short-listed cities, so it is with heartfelt thanks that I now express my own appreciation for the accumulated knowledge and wisdom of the volunteers I was privileged to Chair.
Yet the journey is not over. The Panel will be travelling to Coventry in the not too distant future. Not because we are being sent there, but as the saying now goes: because we want to go.