Shifting Identities, New Stories opens at the Government Art Collection (GAC) on 16 April marking the start of the Commonwealth Heads of Government Meeting in London. Exploring themes that connect to a sense of identity and place are paintings, sculptures, photographic works and prints related to Commonwealth cultural identities.
Spanning nearly 80 years of art, the show features works by sixteen artists: Ronald Moody, Frances Hodgkins, Frank Bowling, Zarina Bhimji, Sam Joseph Ntiro, Runa Islam, Lubaina Himid, Isaac Julien, Yinka Shonibare, Mandy Lee Jandrell, John Joo Lee, Hew Locke, Neeta Madahar, Chris Ofili, Max Kandhola and Ben Enwonwu.
Dancing Girls, by Ben Enwonwu
Dancing Girls, a 1947 drawing by Ben Enwonwu (1917­–1994) was purchased by the GAC during the period that The Commonwealth (the political association as we know it today) formed. Capturing a moment from an Igbo dance ritual of southern Nigeria, Enwonwu's work reflects his approach at uniting his African cultural heritage (his father was the master sculptor, Odigwe Emeka Enwonwu), with his knowledge of European art and anthropology, having studied in London (1944–48). By the mid-1950s, he was internationally acclaimed, with exhibitions in Europe and the USA attracting many collectors, including the artist, Jacob Epstein, and national institutions.
Awarded an MBE in 1955, Enwonwu received a royal commission to produce an official portrait of Queen Elizabeth II, after her 1956 visit to Nigeria. The large-scale bronze was exhibited at the Tate Gallery, prior to its display at the Nigerian House of Representatives, Lagos. Over the next 40 years, Enwonwu enjoyed an immensely successful career, completing major commissions and lecturing in Nigeria and the US. He received the Nigerian National Order of Merit for contribution to art in 1980.
Re-evaluating the genre
Renewed global interest in modern and contemporary African art highlights Enwonwu's significant role in re-evaluating the genre in a post-colonial era. Embracing themes based on an informed knowledge of Igbo and Edo visual culture, his art re-evaluated romanticised depictions of Africa and in doing so, brought a fresh outlook to art forms that supported rising pan-African independence movements in the 1950s and '60s.
A long-lost painting by Enwonwu recently surfaced in London and sold at auction for a record price. Read the fascinating story here.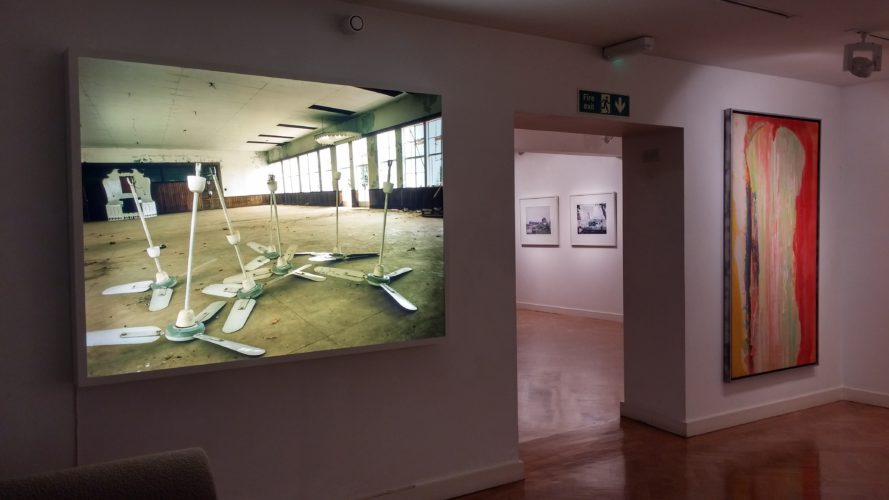 The lightbox by Zarina Bhimji (left), and a painting by Frank Bowling also on show (right)
(© Crown Copyright: Government Art Collection (UK)
Howling like dogs, I swallowed solid air, by Zarina Bhimji
Howling like dogs, I swallowed solid air, a photographic lightbox by Zarina Bhimji (born 1963), is a work made between 1998–2003. Its title and subject are ambiguous and disturbing. Seven overhead fans lie on the debris-strewn floor of an abandoned room. Severed from the wires that once powered them, these redundant objects have an anthropomorphic identity, like bodies left for dead. The original function of the room is unclear – was this a community hall, shop or workspace?
Bhimji's work is one of several photographic and film works that she made shortly after her first trip back to Uganda as an adult in the late 1990s. Born in Mbarara to immigrant Gujarati parents, she spent her childhood in Uganda until 1974, when after having endured two years of civil war, her family were forced to leave, eventually settling in Britain. Her father had had to abandon his livelihood as the owner of a shop.
Emotional response
Bhimji's family's experience had a profound effect on the underlying themes of her work, which she explores in a range of media, from installation and photography to film. Frequently dwelling upon uninhabited spaces or landscapes, and permeated with an air of desertion, her works share a common sense of displacement.
Bhimji encourages individual emotional responses from an audience, whether reticence or desire. The scene in Howling like dogs, I swallowed solid air gives very little away yet it creates a strong sense of unease. In Bhimji's words it '…is about loneliness and separation. And it is about surveillance…'
Discover more about all of the works in the exhibition by joining one of the free lunchtime or evening public tours next week, by clicking here.
Or if you'd like to pre-book a tour of the exhibition for your team (max. of 20 people) in May or June – please contact us at gac@culture.gov.uk.