First World War descendant Shaun Hall pays tribute to his Great Uncle Leonard, who died on the first day of the Battle of Amiens.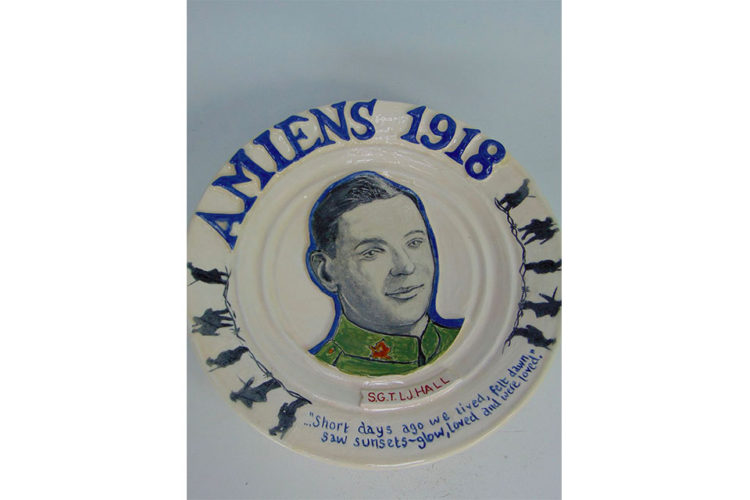 My connection to Leonard John Hall is through my father, also Leonard – named after his Uncle by my Grandad Victor. I recall as a boy my dad and nana telling stories about the Great War and Uncle Leonard who, according to nana Ellen, had left England in search of a better life. He emigrated to Canada and established a farmstead in Saskatchewan. She was certain that he had wanted to avoid the war in Europe.
However, Leonard enlisted in 1915 in the  65th Saskatchewan Battalion, then transferred to the 214th. He was noted as a trainer of new recruits, and rose to  the rank of Sergeant, qualified as a Lieutenant and was even mentioned in a newspaper. By 1917 he had resigned his commission, joined the 5th Battalion mounted infantry and volunteered to go to France and we think, served at Vimy.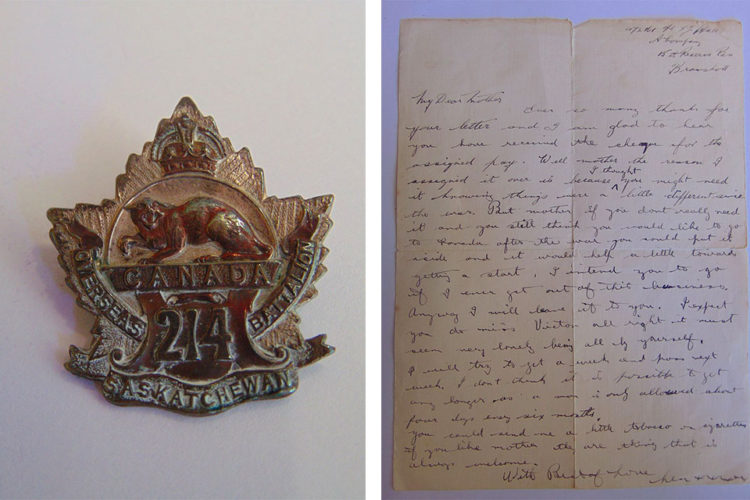 During this time he wrote to his mum, Alice.  If he "ever got out of this business" he wanted his mother to use his wages to come back to Canada with him. Of course his wish was never fulfilled and he was killed on the first day of the Battle of Amiens a year later, aged 22,  in fighting outside the town of Caix – some 20km to the south east of Amiens.
With the looming centenary in France on my mind, I decided it would be fitting to try and commemorate his memory. I'm a potter back home in Halstead, Essex, so armed with an old sepia photograph I 'threw' three plates on the potters' wheel and hand painted his portrait. One of the plates is going on display at the Saskatchewan Military Museum, in Regina, Canada. It's inscribed with a short passage from 'In Flanders' Fields' and the silhouettes of First World War soldiers. It was difficult technically to make, particularly to achieve a likeness, but a thoroughly rewarding process nonetheless.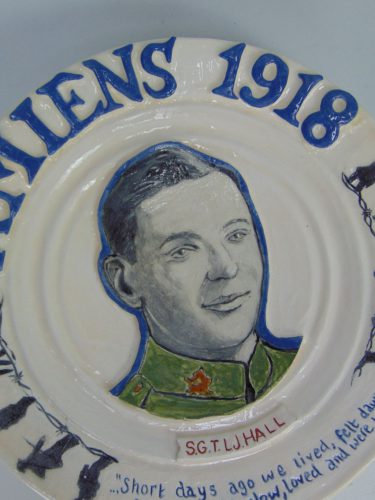 The commemoration in Amiens Cathedral was a moving experience. I felt proud to be there on my father's behalf to witness the testimony of the soldiers recounted by dignitaries representing the combatants from the Commonwealth, France, America and Germany. The Canadian representative read a speech made before the Battle of Amiens, saying if men were struck down in battle that they could be certain of their place in heaven and remembered forever more as heroes. To me personally that's what Leonard was – a hero, albeit a typically reluctant one!