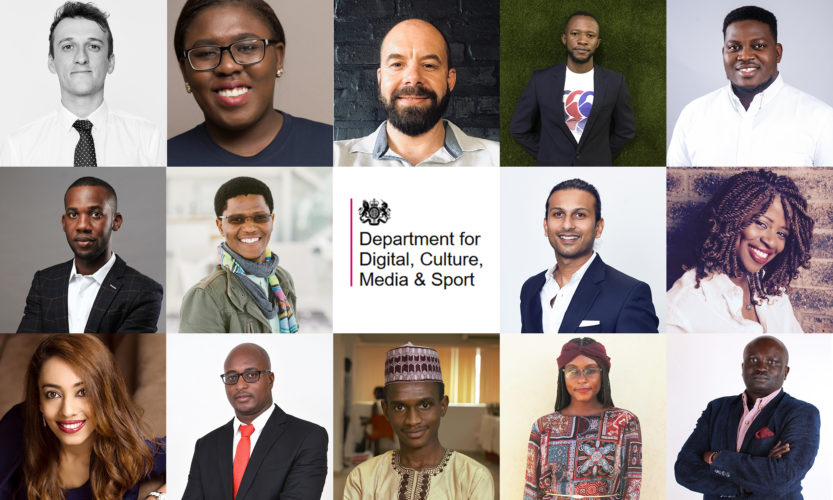 Twenty tech start ups based in South Africa, Kenya and Nigeria are in the UK for a fortnight of intensive workshops, helping them to grow their business, networks and ideas. Find out more about the companies involved in Go Global Africa 2019:
Ethredah Chao, Afya-Plan
Afya-Plan is creating a digital savings platform for the many existing microfinance savings groups where they can save for medical services and be better prepared for medical emergencies. The users can request medical financial assistance and the money is sent to a health facility to cover the medical expenses, from the pool of savings. Built on a mobile money platform, the users can easily save with M-Pesa and manage all their transactions from a mobile phone.
Allan Tullo, Myfugo
Myfugo is a web platform that gives precise data-driven insights on dairy reproductive cycles to accurately predict an estrus event resulting in successful lactations, increased calving and higher milk yield over a cow's lifetime. It offers health insights and information from experienced veterinarians leading to preventive and timely disease interventions. Dairy farmers are able to get actionable insights and recommendations to boost productivity, animal health and improved income.
David Azemoh Paul, Thrive Agric
Thrive Agric is an agricultural technology company that provides farmers with best agricultural practices, money to farm and access to premium markets. People and organisations who provide these funds get to monitor the farming process virtually and share in the profit.
Marnus van Heerden, Pineapple
Pineapple allows members to insure in the snap of a picture using artificial intelligence, meaning no more paperwork or call centres. It decentralises the insurance capital base using a patented wallet methodology, resulting in all unused premiums being returned to members. This resolves the traditional conflicts between the insurer and insured and improves transparency and trust in the product.
Nasreen Ali, Cherehani Africa
Cherehani Africa is a social enterprise that leverages mobile technology to provide credit and to distribute personalised financial information to women and teenage girls who own micro-enterprises in rural and underserved markets in Kenya. Customers are members of locally registered groups of between 10-25 members who come together based on their business type and proximity. The app combines an owner's platform with a team of field officers who are tasked with building trust, resolving problems and ensuring value for our customers. The goal is to build thriving communities by providing the right financial tools to the financially excluded.
Tania Mukwamu, MaxiCash
MaxiCash helps African expats globally to offer financial support to people back home. Money remittance to Africa today often requires people to take time off from work, stand in long queues, pay high fees and there's a lack of trust in the receiver's use of the funds. By focusing on why people remit, we have created a financial support ecosystem enabling both remittance to Mobile apps, banks and direct payments to service providers. This solution is mobile app driven, built on stellar blockchain, fast, easy, transferable, paperless and affordable.
Ralph Oluwole, Helium Health
Helium Health is a health-tech company on a mission to make Africa's healthcare sector more technology and data driven. By connecting stakeholders and with these tools and services, Helium is improving the way patient records and finances are managed and providing new ways for patients and practices to engage.
Tochukwa Egesi, Innovation corner
The Innovation Corner is a social innovation centre with a focus on using technology to solve social problems with a focus on healthcare, governance and SMART infrastructure. The Innovation Corner has developed the RemindMe Monitor. RemindMe is an automated management and reminder system for immunisations, for mothers in Africa, powered by USSD and Voice Technology. RemindMe also provides hospitals with vaccine inventory management services via USSD technology.
Dr. Adereni Abiodun, HelpMum
HelpMum is a social enterprise aimed at reducing maternal and infant mortality in Nigeria. Using the power of mobile technology, it delivers lifesaving health information to pregnant women on their mobile phones, ranging from antenatal care date and immunisation reminders, to zoonosis awareness and vaccination schedules for the newborn babies. We also develop basic, inexpensive HelpMum Clean kits to help mothers and newborns avoid getting infections during childbirth in underserved communities.
Isaac Karani, Elikham Systems Limited
Elikham Systems Limited offers onsite wastewater treatment and recycling systems, solving the problem of water scarcity and environmental pollution, particularly in urban centres. We work with real estate developers, urban town planners, institutions and governments to make cities work. The company designs and sells wastewater systems, charging for installation and maintenance.
Jamie Magambo, CropCrowd
CropCrowd is an impact farming platform which uses secure peer to peer lending to connect sophisticated, philanthropic investors with farmers in East Africa. CropCrowd allows anyone to participate in ground-breaking 'crowdfarming' ventures, impacting the lives of farmers in a positive way while you grow your money and make returns. Investments not only empower and protect small-scale farmers in East Africa, but also enable them to make significant extra income.
Odunayo Ewenyini, Piggybank
Piggybank wants to give people the power to manage their finances by making it clearer and more transparent. Piggybank.ng enables Nigerian debit card holders to save little amounts of money frequently with minimal effort. They automate the process of saving tiny amounts daily, weekly, or monthly and allowing you to withdraw for free on only set withdrawal dates. PiggyVest (formerly piggybank.ng) is now the largest online savings & investing platform in Nigeria.
Richard Machomba, FlexPay
FlexPay allows customers (who are not in a position to access credit from financial institutions or make one-off payments) to reserve goods and services conveniently via mobile phones and make mobile payments, gradually, at their own pace, over a stipulated period of time. It currently operates in the retail space and is looking to expand into other areas namely, rent payments, tourism & travel, school fees and health insurance.
Salisu Abdullahi, eTrash2Cash
eTrash2Cash is a social enterprise that helps low-income people (especially vulnerable women) in Nigeria to earn and save cash benefits from exchanging their trash at local collection kiosks. The platform is a financially-inclusive solution as they find sustainable, easy-to-operate and free space to earn and save money from trash, which they collect for free. All cash benefits earned are redeemed in cash or access health insurance. eTrash2Cash processes all collected trash directly into bio-friendly direct reusable products such as eco-trash bags from plastic wastes.
Tochukwa Egesi, Innovation Corner
The Innovation Corner is a social innovation centre with a focus on using offline technology to solve social problems with a focus on healthcare, governance and smart infrastructure. The Innovation Corner has developed the Remind Me Monitor. an automated management and reminder system for immunisation for mothers in Africa powered by USSD and Voice Technology.
Tyron Fouche, Nobuntu
The People's Fund is a savings product where those that die early directly subsidise those that live for longer. The result is an investment profile which, equals market returns but over time increasingly rises above this minimum as mortality returns accrue. For our customers, living for long is no longer something to be feared but rather celebrated.
Faith Adesemowo, Social Lender
Social Lender is a lending solution based on social reputation on mobile, online and social media platforms. Social Lender is designed to bridge the gap of immediate fund access for people with limited access to formal credit. Social Lender uses its own proprietary algorithm to perform a social audit of the user on social media, online and other related platforms and gives a Social Reputation Score to each user. Loans are guaranteed by the user's social profile and network allowing users to then borrow from banks and other financial institutions based on their social reputation.
Fanie Hattingh, Health Solutions Africa
The team created a unique technology consortium and a scalable, modular, rules driven and intelligent, enterprise smart health cloud and data aggregator platform. By developing this "LAIO" now acts as an integrated Smart Health Information Systems for Primary Care, Home Healthcare, Workplace Healthcare, Remote Site Medicine, Emergency Medical Services and Community First Responders.
Owen Meredith, GLU
GLU is a Systems Integration business with a 'leapfrog', bank grade integration technology platform, GLU.Ware. GLU.Ware enables clients to increase business agility, get to market quicker, and unlock business potential in an affordable way. GLU.Ware overcomes the barriers that people face in transforming their business design. Using the platform, clients see more than 50% reduction in time and cost associated with integrating systems in any market and any industry.
Terrence Naidu, Envisionit E-pay
Inspired by a deep desire to help South Africa rise out of its recent recession and historically low GDP growth rate, Envisionit E-Pay provides a secure platform to facilitate trust between transacting parties no matter how big or small the transaction size. Through our global web based escrow platform and the world's first holistic escrow app Envisionit E-pay acts as a trusted 3rd party payment provider to both buyers and sellers of online and real world transactions. In just four simple steps (Agree, Secure, Deliver & Pay) we ensure buyers get exactly what they've paid for and sellers/ services providers receive payment on delivery of goods or services by securely holding the buyer's payment until the seller's product or service has been delivered.
Technovera
Technovera is a social impact startup that has developed Pelebox, a smart locker system that enables patients to collect their repeat medication prescriptions in under two minutes instead of waiting hours in queues at public clinics. It is leveraging the power of IOT through internet enabled smart locker devices to remotely track medication collection and treatment compliance while automating information about patient behaviour and patient outcome. 
Find out more and get involved