In a room at the Scottish Exhibition Centre around 100 delegates gather for something different from the speeches and workshops abound in the CyberUK agenda. The Cyber Den. A competition modelled on BBC's Dragon's Den that sees 12 cyber entrepreneurs compete to receive a year's material support from the NCSC.
This is the fourth year that DCMS have sponsored CyberUK's Innovation Zone and represents one of a range of programmes and initiatives run by DCMS, at every stage of the maturity curve, to help cyber companies grow and scale up.
Co-exhibiting with young firms and giants
We co-exhibit with young firms in the same arena as the sectoral giants. The range of our initiatives lends to the diversity of the zone. Amongst them start-ups that had attended HutZero and Cyber101, enterprises scaling up with the help of The London Office of Rapid Cyber Advancement (LORCA) and spinout companies from Cyber-ASAP, an initiative that commercialises academic ideas.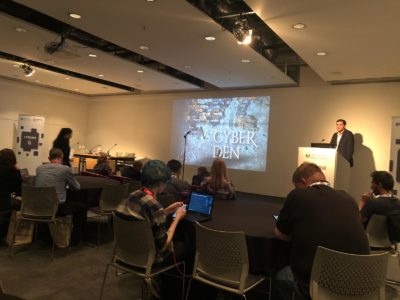 Entrepreneurs tend to be expert pitchers and each presents a brilliant 2 minutes on stage. What follows is tougher. The "Dragons" are engineers and technical leaders from NCSC, BT and the NCC group. They grill each contestant heavily; questioning everything. Few leave the stage feeling confident. The Dragons play their part well. They are fierce.
The winner is…
Later on, the CEO of NCSC, Ciaran Martin announces the winner as Risk Ledger. Their founder, Haydn Brooks, is ecstatic over more recognition for his supply chain assurance business that has gone from strength to strength since attending HutZero.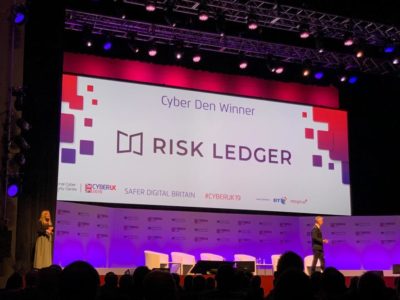 Others came close to the win, settling for notable mentions. The CyberFish Company, offering an innovative take on crisis response through cyber wargaming, and Raven Science, who automate the classification of extremist videos. All 12 entrepreneurs offered stiff competition with their innovative solutions and persuasive business models. DCMS give a springboard to such businesses, with the ultimate aim of making the UK the best and safest place to do business online. This was just another step on that long and exciting road.
To find out more about these initiatives, email: cybersecurity@culture.gov.uk