Girlguiding is the leading charity for all girls and young women in the UK, with over 500,000 members. We exist to help girls and young women find their voice and build skills and confidence – inspiring them to discover the best in themselves and empower them to make a positive difference in their community.
Winning a Queen's Award for Voluntary Service (QAVS):
For me to receive the letter to say our nomination for a QAVS had been successful was amazing. An MBE for Girlguiding Greater Manchester West is a first in Girlguiding. To keep that a secret for nearly two months was really hard so it was a huge relief to be able to shout about it on June 2nd 2019.
Two of us went to a Royal garden party at Buckingham Palace and were delighted to be chosen to be presented to Prince and Princess Michael of Kent. Attending the presentation at the Manchester Monastery was a fantastic honour and ten members were so proud to represent Girlguiding Greater Manchester West at such a prestigious event.
Why we won the award:
We gained the award in recognition of  starting a scheme that provides small bags of toiletries to Salford Royal Hospital for visitors who unexpectedly had to stay the night with a patient. It involves every age group in our organisation and has grown and spread all over the North West of England. During the past year we have continued to expand into other parts of the country too.
Where the project is now:

I have given presentations to other societies and at study days in the hospitals of the Northern Care Alliance. During the covid-19 pandemic we stepped up and have produced vast amounts of bags for several hospitals, hospices and home carers. We also expanded into tasty treat bags for NHS staff over the crisis period.
This has been something I never dreamed of. To be nominated was an honour and to win was just massive for us. I am so proud Girlguiding Greater Manchester West can use the QAVS logo and our members wear the badge with pride!
To fellow volunteers:
To any volunteer groups I would say let's celebrate what a difference we make and if you have the chance to be nominated for this award take it and you too may be lucky.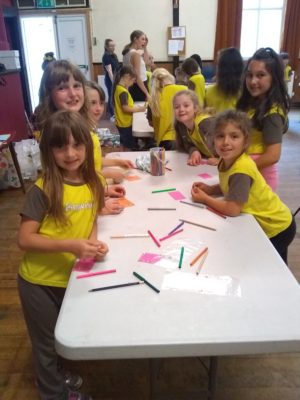 Written by Pat Mayle – Support Leader Girlguiding Greater Manchester West + County Comfort Bag Coordinator.