A grant from the Culture Recovery Fund for Heritage to the Bluebell Railway has enabled us to create virtual tours of our stations, locomotive shed and museum. This project is ongoing with more tours coming soon, including Kingscote Station, booking office and signal box! 
The link to our first tour was put on the Bluebell Railway website on 21st December 2020. The virtual tour page has since been viewed 1600 times. The newest tour of our accredited museum was added on 29th January 2021. 600 people have engaged with the museum tour with each spending an average engagement time of 2 minutes 50 seconds. 85% of users were from the UK, with the remaining 15% of views coming from people in countries around the world including the United States, Japan, and Australia. 
Exploring the tour online
The tours are best viewed on a computer screen to fully appreciate the fantastic detail included in the shots. By using your mouse or holding your finger and swiping on the screen of a phone or tablet you can swivel around on the spot and look in every direction. By clicking on icons, you can move from one spot to another and even into the sky for a bird's eye view.
All tours include information symbols which reveal a label when you click on them and extra goodies like pop out photographs, films and facts. The labels are also spoken.
Enabling all people to access heritage
One of the brilliant things about these tours is that they enable all people to access their heritage, which is particularly appropriate right now while the railway is closed due to the pandemic. Many people are stuck at home missing their visits or looking for ways of making their lives culturally richer. 
The tours are a great way to reach potential visitors and also a useful tool for outreach activities, like talks to groups. I am already booked to conduct a virtual tour for three Scout groups and a support network for partially sighted and blind people.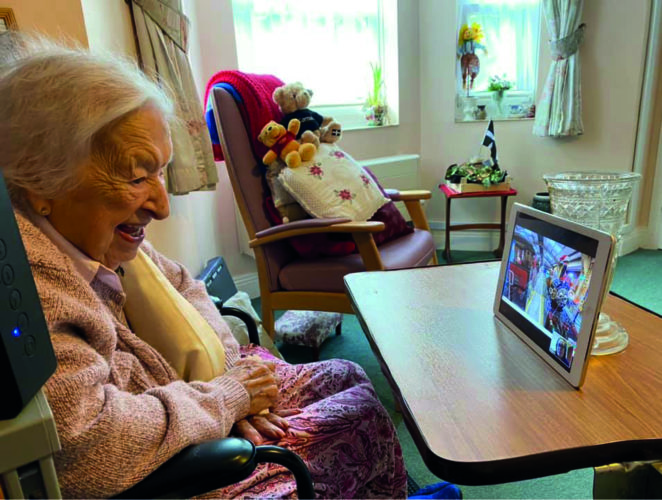 On Tuesday 19th January, a wonderful surprise was organised for one Bluebell Railway member. Living in a care home and unable to visit the railway for a long time, Irene Baker was celebrating her 100th birthday. A great supporter of the railway over the years, Irene had been missing her "beautiful Bluebell", so she experienced the closest thing that we could provide – a virtual tour! 
Via a Zoom call, we operated the tour and took her round the locomotive shed. She was thrilled, referring to herself as Bluebell barmy!
---
Take a stroll round one of the virtual tours.
---