DCMS Culture and Sport Director Clare Pillman looks at her own family's First World War journey from rugby internationals to serving on the front line, signifying how the sports stars of the time were called into duty.
'I shall never play at Twickenham again' were, reportedly the last words in public of Lt Ronald Poulton Palmer, the formidable three quarter who captained the England side through their unbeaten 1913-14 season. Seen at the time as the world's greatest rugby player, he was killed by a sniper in 1915, aged 25. He had arrived at the Western Front just five weeks earlier.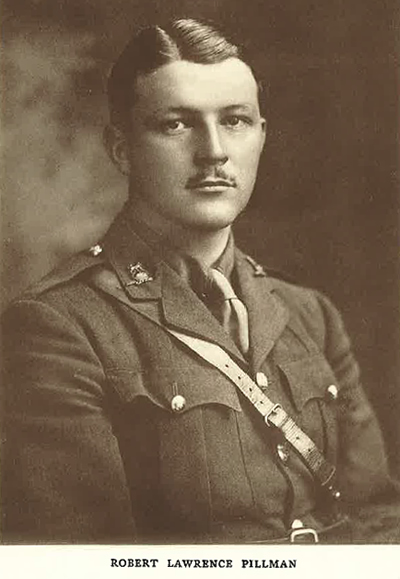 Family history
My great uncle Robert (Bob) Pillman played alongside Ronald Poulton Palmer, and was a key player in the celebrated Five Nations Grand Slam victory, clinched by the 39-13 rout over France in April 1914. Robert won his first and only cap in the game. A very crackly film of this match is on display at the Rugby Museum at Twickenham
And Robert too died in action of wounds received while leading a raiding party on 9 July 1916. He was 23. Just a few months previously he'd written to his mother on 22 May asking her to send green vegetables "as we haven't seen a decent vegetable since we left E. We don't know for certain when we are going to leave this place and nobody is in a particular hurry."
His brother, Charles 'Cherry' Pillman (Chas to his family), also fought on the Western Front. And he too had the distinction of playing for England, getting his first cap whilst still at school and a further 18 before the war. His speed and tactics made him one of the leading exponents of an attacking wing forward – now recognised as the flanker position. A lieutenant in the Cavalry Special Reserve attached to the Dragoon Guards, he was awarded the Military Cross in 1918. In the London Gazette in April 1918, his citation read 'For conspicuous gallantry and devotion to duty. He led his men to the help of the advance squadron, thereby preventing them from being surrounded and leading them to complete a most successful enterprise. When a captain was killed he took over command of the advanced squadron, having previously placed his own men so as to cover the retirement."
Personal meaning
So marking the First World War centenary has a particular – personal – meaning for me. And I think the world of international rugby may well be feeling something like this too. Because in all, about 140 international players were killed on the side of the Allies. Indeed, of those who played in one of the last matches before the war – a 15-16 win for England against Scotland in March 1914 – only half of those who took part in the game came back from the war.
The first to die, Scotland and London Scottish player, Ronald Simpson lost his life on 14 September 1914 little more a month after war was declared. He was a lieutenant in the British Royal Field Artillery. Thereafter, though, the fatalities came with horrible swiftness, devastating the rugby ranks.
Others among the roll call of those who played for their country and later died for it was Dave Gallaher who led a major All Blacks tour to the British Isles in 1905, legendary David Bedell-Sivright and Frenchman Jean Bouin, better known as a middle distance runner at the 1908 Olympics as well as the 1912 Games.
Although many were killed during the war, a number of rugby players survived but suffered crippling injuries and were unable to play upon their return to civilian life. The Australia and British Isles player, Tom Richard, was affected by a bomb blast and suffered chronic respiratory problems for the rest of his life as a result of the gas attacks he experienced on the Western Front.
In total 30 Scotland internationals were killed in the First World War, 27 from England, 13 from Wales and nine from Ireland. Australia also lost nine internationals, New Zealand 12 and South Africa four. The French had 23 dead by the end.
Like many others, my family has been prompted by the Centenary commemorations to explore their family history.
We all sort of knew a bit about Uncle Bob and Uncle Chas, and were proud of them in a slightly vague way. Visiting Uncle Bob's grave at Calvaire (Essex) Cemetery near Ploegstreet earlier this year with my fifteen year old nephew, Henry, really brought home to me the way in which the war affected the lives of millions of families right across the world – whether it was the gaping hole left by a dead child or sibling, or women taking on new roles in society, or homes and livelihoods being destroyed. The scale of the war, and its consequences can seem so vast as to be almost overwhelming, but it is through exploring the lives of individuals, either family members or members of different communities, such as Rugby, that we can learn more about this extraordinary period in our history.
Share you family's story
Be part of the First World War story. Upload your own family history to Lives of the First World War. This newly launched digital archive from the Imperial War Museums is piecing together the stories of eight million men and women who made a contribution during the First World War