I'm now well into my two month, 1,000 mile #walk4peace from London to Berlin to raise money for the German charity, Friedendorf International which means in English Peace Village. By completing this walk I hope to raise both money and awareness for children who are victims of war. Stage one of the walk kicked off from City Hall via Tower Bridge on 5 August, with my friends and family turning up in full force to see me off on my journey and walk some of the first distance with me. When we approached Tower Bridge to walk past the incredible Poppies in the Moat at the Tower of London, we noticed a huge crowd gathered at the Tower. We quickly realised that they weren't there for me; they had turned up in full force to watch Prince William, the Duchess of Cambridge and Prince Harry plant ceramic poppies as part of the magnificent display to commemorate 888,246 fallen British and commonwealth soldiers in WWI.
My journey is scheduled to end at the beginning of October when I arrive in Berlin, but along the way I plan on visiting a number of locations and venues that hold significance to WWI and WWII to highlight my reasons for this walk. In my first week, I was lucky enough to be invited to the McClaren Technology centre in Woking to help create awareness of the #walk4peace campaign. A vital part of this process is of course fundraising and making people aware of the reasons why I would set myself such a challenge. Following a tweet from McClaren, I soon doubled the number of followers on @BatesLord and #walk4peace…power of social media prevails! On the fifth day, I started to feel the pain of walking such long distances on a daily basis. I pressed on with my journey, spurred on by remembering the solemn commemoration service I attended only a few days earlier at Westminster Abbey and the many reasons why I decided to face this challenge.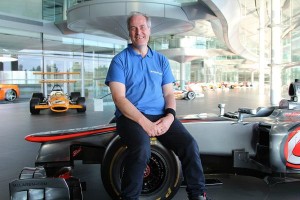 The same day, I visited Brookwood Military Cemetery and was moved by the site that I saw. Looking at the headstones of the soldiers who had lost their lives during the war, I realised that many of them were younger than my own sons who are in their early 20's. I was incredibly moved by the visit and felt an instinctive national pride and honour for these courageous young men who served their country, my country and yet a competing force of anger at the scale and cost of war. By the end of Day 6, I was thrilled to reach the end of the first stage of this two month journey. I had finally arrived in Portsmouth to take a ferry to Le Havre. If you have a read of my blog you will see that I took a few wrong turns along the way! Feeling exhausted, I received a welcomed uplift in mood in the form of a number of Chinese students who read about my walk and were keen to walk with me from the station to the port. After taking some time to refuel and talk to the students in a nearby café, I then set off on my lonely journey to Le Havre aboard an overnight ferry, to then start the second stage of my walk in the morning. At the end of the first week, I was thrilled to have completed the first stage of my #walk4peace and am proud to have walked 96 miles and raised a brilliant £1802.81 for Friedendorf International.