It has been seven weeks since the Grand Départ of the Tour de France swept through Yorkshire and even now, almost two months later, people are still talking about that amazing weekend.
Yorkshire was the undoubted star of the show. The huge crowds, their passion, the laughing, smiling faces and of course our breathtaking landscapes were seen around the world by millions of people in over 190 countries. The sun shone and Yorkshire looked stunning. It's fair to say one of the unexpected by products of hosting the world's greatest cycle race is that it has drawn a thick red line through one of the oldest stereotypes in the UK; it definitely isn't grim up north any more. Just ask the riders and the teams. They love Yorkshire.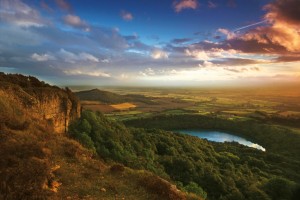 In fact, the world is in love with Yorkshire. One of my favourite past times at the moment is spotting car number plates. The influx of foreign plates in Yorkshire since the Tour has been staggering. There are noticeably more European cars roaming our roads, Whitby is being overwhelmed by new international guests filling its ancient alleyways and anecdotally I have heard of people in Australia scrapping plans to explore Europe to come to Yorkshire because of the images of the Tour de France they watched live in Melbourne. The impact on our tourism businesses is being felt now. And as we approach the final bank holiday get away of the summer we are expecting an influx of domestic visitors to follow the example of our international guests and to sweep into Yorkshire.
We cannot wait. Yorkshire is ready and waiting to host them in the same way we hosted the fans of Le Tour. Recent analysis of IPS figures shows overseas spending in the county is at record highs at £68m during Q3 2013, an increase of 13% on 2012. This is fantastic news for the thousands of tourism business in Yorkshire who work hard all year round to welcome the world.
Yorkshire's profile has never been so high, we are riding a wave of worldwide acclaim and we fully expect an influx of international and domestic visitors to flock to Yorkshire this and for many years to come as the legacy of the Grand Départ of the Tour de France is felt in our great county. Yorkshire is very much on the must visit list for many people around the world now and we cannot wait to welcome them. Starting this bank holiday weekend.