Twenty years. It's a long time to keep an annual event running, to keep enthusiasm levels and public interest up. Not even Glastonbury happens every year. But Heritage Open Days – the biggest festival of history in the UK – has taken place on the second week of September every year since 1994. Quietly at first; just eighty or so events, dotted around the country, but over the years it has snowballed into a vibrant, creative celebration of England's wonderfully diverse local history. And this year, as the organisation enters its third decade, will be the biggest ever – over 4,700 events taking place from Cornwall to Cumbria, and everywhere in-between.
So what is the secret of Heritage Open Days' success? I believe a big factor is that it appeals to the curious, dare I say the nosey side of us. Who doesn't see a locked door and wonder what's behind it? Central to the Heritage Open Days ethos is opening up buildings that are usually closed to the public, but there are also hundreds more familiar buildings – cinemas, theatres, galleries, pubs, factories – that reveal a different or hidden side, through talks or tours, or opening up areas that are normally off-limits.
The festival began as a celebration of architectural heritage – and if that's your area of interest, there's still plenty to discover – from the beautiful St Augustine's Church in Ramsgate, often considered ANW Pugin's finest work, to the spectacular Hadlow Tower in Kent, a 19th century folly that was restored after the local village community started a campaign to save it from decay.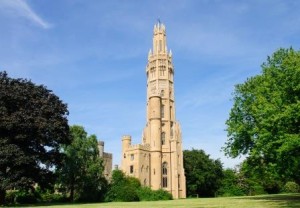 But as the festival has grown, so it has changed and developed – with re-enactments, vintage fairs and tea-dances alongside themed historic walking tours in towns and villages across the country. The creativity and thought that goes into many Heritage Open Days events gives them real appeal to young people, whether that's visiting 'Blitz Street' in Great Yarmouth, where a life-size 1940's street scene has been created in a private garden or joining the 'Kids Takeover Day' at the Norwich Guildhall, where young historians share the building's secrets.
One criticism that is often levelled at heritage site is admission prices – particularly for families. One of the things I'm proudest of is that every single Heritage Open Days event is completely free, even pre-bookable tours and talks. That also includes some iconic National Trust sites, from Hilltop, Beatrix Potter's house in the Lake District, to Lindisfarne Castle in Northumberland, one of the most atmospheric sites in the whole country.
As Patron of Heritage Open Days I feel an immense sense of pride at its success, not least because it succeeds due to the passion and hard work of thousands of volunteers and organiser who give their time freely and generously. As heritage funding comes under increasing pressure, and councils increasingly struggle to find the resources to support such events, it falls more and more to local preservation trusts and civic groups to sustain and maintain our local heritage.
Heritage Open Days goes from strength to strength because it enables local people to choose, create and define how they celebrate the heritage in their area. It's a unique and wonderful event and I urge everyone to go out this weekend, step through an unlocked door and discover the hidden local history on their doorstep.