Hot on the heels of the Crafts Council's Innovation Programme launch Annie Warburton, Crafts Council Creative Programmes Director, explains how the initiative will drive collaborative innovation and creativity.
Robotics, neuroscience, motor racing and pure mathematics are not fields you might immediately link with contemporary craft. Yet all featured at Monday night's launch of the Crafts Council's Innovation Programme by Ed Vaizey. With a brief that bridges DCMS and the Department for Business, Innovation and Skills, with responsibility for digital industries, the Minister understands that art and new technology are mutually enhancing. And that's what our Innovation Programme is all about.
The programme explores innovation in craft practice and how makers stimulate innovation in science, engineering, and medicine through new materials, processes and technologies. It comprises R&D projects, a major conference and an 'open doors day' for Make Spaces.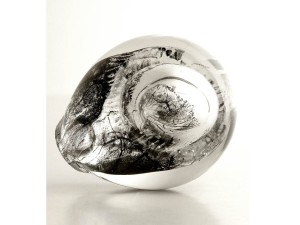 On 20-21 November our conference Make:Shift will showcase and debate innovation in craft, with over 40 speakers from science and technology alongside makers working at the cutting edge of practice. On Monday, a panel discussion, moderated by Crafts Council Chair Geoffrey Crossick, gave a taste of what to expect in November, with Sebastian Conran musing on the precision of craftsmanship in Formula One cars and Institute of Making co-founder Zoe Laughlin's dazzling material theatrics. Jerwood maker Shelley James's exquisite Platonic solids brought to life just how the fusion of art and science drives forward ideas. The seemingly impossible intricate patterns of air bubbles in her work, created by the fusion of traditional hot glass techniques and new technologies, inspire world class mathematicians – the likes of Sir Roger Penrose – to new insights. The transparency and physicality of the material, enables thinkers quite literally to grapple with mathematical problems and see new solutions.
Alongside the conference is Make:Shift:Do, a weekend of making, where Make Spaces across London and beyond will throw open their doors for people to try their hand at new forms of making. It's run in partnership with the RSA, the V&A and the Institute of Making. Prepare to be intrigued.
Also announced on Monday was Parallel Practices, the Crafts Council's collaboration with the Cultural Institute at Kings, running four residencies for makers and medical and scientific academics at Kings College London. Bringing together fields as diverse as ceramics and neuroscience, textiles and robotics, these pairings of makers with scientists are exemplary of how we're stimulating new work through the Crafts Council Innovation Programme.
When culture and science collide it's to creative effect for both. Collaboration sparks scientific insights and artistic breakthroughs. All too often, though, those collaborations happen by 'happy accident'. The plan for the Crafts Council Innovation Programme is to showcase these brilliant partnerships and create more opportunities for them to happen. Join us in November for more.
Find our more at www.craftscouncil.org.uk
On twitter @CraftsCouncilUK
Watch Rosy Greenlees, Crafts Council Executive Director discuss the crafts industry's influence on the wider creative sector and the vital role education plays in shaping creative career paths