Following the wonderful meeting with the Mayor, Stefan Schostok and a visit to the Landesmuseum I had to continue with my journey, leaving Eixe to head towards Brunswick, a journey of 19.8 miles.
Today's walk was idyllic and virtually perfect in every way. There was a McDonalds (creature comforts) halfway at Vechelde where we could meet for lunch and catch up on emails and confirm hotel bookings. Then there was a glorious seven mile stretch of walking through a forest which brought me out in the suburbs of Brunswick. I was then able to spend the evening walking around Brunswick Centre, admiring the amazing beauty of its architecture and narrow old streets, filled with restaurants and bars.
Day 49, marked a significant day for me, the annual United Nations Day of Peace. This day has always been an inspiration to me and like all great ideas it is simple: can we achieve peace on earth for just one day.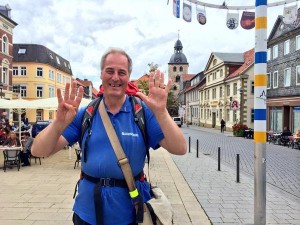 Since 2010 I have always marked Peace Day in some way and this was to be no different as Xuelin and I lit a candle for peace outside our hotel at the start of my walk that day. It was also a great day for the #walk4peace, as I marked the 900 miles mark and £19,000 raised for Friedensdorf International.
I was soon crossing the border between former West and East Germany and my goal of reaching Berlin was getting ever closer. Day 52 I was scheduled to walk from Gr. Ammensleben to Reesen which would mean walking 24.5 miles, taking my total so far to 961.4 miles.
The challenge of the day was for Xuelin and I to figure out how I would navigate across the Elbe and the Elbe Havel canal. We deliberated the best crossing, with all of our maps suggesting different routes, and I was soon off on my way with faith that I would find some route across. I continued along the eventually tranquil walking route alongside the canal and reflected on my incredible journey so far.
The plan for Day 53 was to head from Reesen to Plaue, Brandenberg walking 27.7 miles. The day began with fantastic news, a donation of £5000 from the UK China Business Association. This certainly put a spring in my step as I headed out to start the walk.
The positivity kept coming, because the next day I reached a very special milestone – 1000 miles. My parents who are a constant encouragement on all of my walks were the first to send their congratulations. They recalled that on my first major walk (2011-2012) it had taken me 3.5 months to walk 1000 miles from Olympia, Greece to Sarajevo, Bosnia. I had done this walk in one week short of 2 months.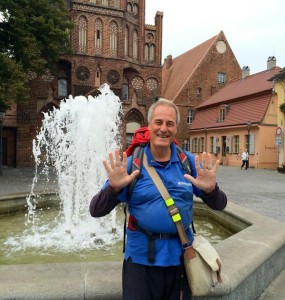 The schedule became quite grueling in order to finish the walk on schedule, but there was one town that I wasn't just going to walk through without stopping and that was Potsdam. I had often wanted to visit having heard of its history and lakes but never had the chance. Potsdam was the residence of Prussian Kings and the German Kaiser until 1918.
The place I most wanted to visit was Cecilienhof Palace which had been built at the start of the First World War by Wilhelm II for his son and his wife Cecilie. It was built in an English Tudor style and has a modest (by royal standards) 176 rooms. I confess I was less interested in its owners and more interested in its use as a location for the Potsdam Conference at the conclusion of World War II between 17 July and 2 August 1945. The war had concluded in May 1945 and there was a huge amount of work to be done to agree the peace terms, not only in Europe but also in Asia where the war against Japan was still continuing though peace terms were being sought with the US through the Soviet leader Joseph Stalin.
There is something about standing where events happened that shaped our modern world that brings them home to you in a personal way. These cease to become great figures of history, political gods ordering the world, but human beings with bedrooms, studies, favourite chairs, meeting together, fishing together and eating together. It was fascinating to hear the personal stories of relations between the leaders spoken by those who were there on our headsets. I found the insights of the translators particularly illuminating.
I ended day 55 still in Potsdam, pleased to have taken the time to absorb the incredible surroundings. By day 55 my #walk4peace had reached 1013.2 miles and donations had reached a fantastic £27,609.88 for Friedensdorf International.