Following an exhausting ferry journey from Portsmouth, I think I only managed to grab a few hours' sleep; I arrived in Le Havre to kick off the second stage of my 1,000 mile journey to Berlin.
Le Havre is a significant stop in my walk as it is France's second biggest port and during WWI 1.6 million British soldiers did the exact same crossing to Le Havre on their way to the Western Front, many of them never to return. As I walked through the lower city there was scarcely any building which looked older than years, in fact, I saw none. This was because the strategic importance of Le Havre was not lost on German forces who prepared for their invasion of Britain 'Operation Sealion' at Le Havre. For this reason it was the relentless target of British bombing raids which killed at least 5000 local French civilians in the process. Walking through the tunnel into the upper town there are magnificent buildings and beautiful parks.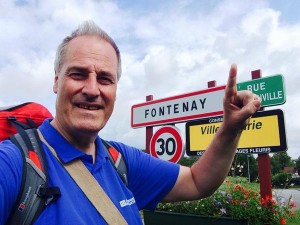 Moving on from Le Havre, I was able to celebrate my first 100 miles at the village of Fontnay and went for a celebratory coffee in the local Tabac.
The seventh day of the walk became quite a struggle for me, but I was thrilled to receive a supportive call from my son who completely changed my mood and outlook on the day.
My foot that had been causing me discomfort for the last few days and took a turn for the worse on the 9th day when I was making my way through a small village called Saint Pierre. I find it hard to admit defeat, but I soon realised that I would do myself more harm than good if I pressed on with the journey.
Finding out I had just missed the last bus to the next town where my wife, Xuelin had booked a hotel was a real test of my strength. I started to feel as though the bus shelter would become my bed for the night. I quickly realised that much of France seemed to be on holiday, with many of the shops and taxi firms closed, but thankfully I noticed a small village inn that was open.
Heading into the inn I spoke to some of the locals and shared with them the challenge ahead of me. I was overwhelmed by their warmth and support as they pulled together to help me find a way of getting to the hotel, in the end a local man who was in the inn offered to drive me there. I am so grateful for the help and support they offered me that evening. The next morning I headed back to Saint Pierre to complete the walk from the night before.
After trying to push through the pain caused by my foot, I was eventually forced to spend a day resting to ensure I wouldn't have to call off the walk altogether. As they say though, no rest for the wicked! I had to spend the day catching up on emails and continuing to make people aware of my #walk4peace. Although the rest was welcomed, I did feel anxious about getting back on my feet as soon as possible because it is vital I stay on track so that I arrive in Berlin on schedule.
Thankfully, the next day I was able to set back off on my #walk4peace heading towards Dieppe. This is a poignant part of my walk as Dieppe was where a largely Canadian armed force of approx 6000 tried a daring raid, 'Operation Jubilee' against heavy German defences on 19 August, 1942. Of the 5000 Canadian forces 3367 were killed, wounded or captured. It was a huge blow to morale of the Allies and in particular the Canadians who bore the brunt of the losses.
When we were planning this walk Xuelin and I both felt we would also like to acknowledge in some way the contribution of the Chinese Labour Corps (CLC) in support of the British Army during WWI. Their role was not a combat role but they provided cooking, laundry and labouring services such as road and railway construction.
We had mentioned our plan to some British Chinese friends back in the UK and they said that they would like to join us. Led by David Tang, Senior Vice Chairman of the UK China Business Association and members of the Zhejiang UK Association, they came out to join us in an act of remembrance at Noyelles. They were accompanied by Christine Yan, Deputy Editor of Nouvelles Europe the main European Chinese weekly newspaper.
We came together in a peaceful remembrance to honor the untold story and the men of the Chinese Labour Corps whose sacrifice made it. We can't change the past but through our actions today we can perhaps reshape the future one small step at a time.
Day 14 of the journey started in Eu and I was unfortunately confronted by one of the biggest challenges for any walker – torrential rain. Eventually I arrived in Abbeville, a very beautiful town, despite having been heavily bombed in WWII. Although it is wonderful to be in such a beautiful town, I still have concerns about the pace I can currently travel at due to my foot. At this point I am two days behind and I need to press on with my journey to ensure I arrive in Arras on schedule.
Two weeks into my two month walk, I have received an incredibly generous £7,667.84 from supporters and walked a challenging 219.4 miles.