Great news from Tate this week.  The Matisse show at Tate Modern welcomed 562,622 visitors during its short stay this year, comfortably becoming not only their most successful temporary exhibition ever, but also the first one to top half a million visits.  Congratulations to them and if you, like me, were one of that number then you'll not be too surprised to learn how successful it was.  But pause for a moment and think about that number.  It is the equivalent of the London Olympic Stadium – at its 2012 capacity –  filled seven times over.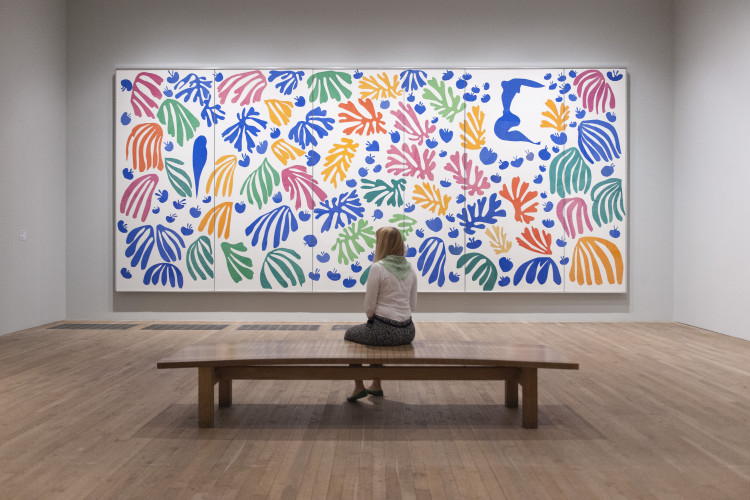 Blockbuster exhibitions
So a huge success by any standards.  But for all that, there will be some who say that, yes, this is very good news indeed for Londoners and those who can afford to come to the capital to visit Tate, but less so for those around the country who can't.  There are ways to get partly round it, of course, and Tate took a leaf out of the big London theatres' books with Matisse Live, an exclusive private tour of the exhibition, broadcast live from the gallery to over 200 cinemas around the country.  But there's not much anyone can do about the way in which the stopping points for the blockbuster exhibitions themselves are organised.  The big touring shows' itineraries will be largely dictated by where the loans have come from and which galleries are best placed to manage the massive crowds that are likely to visit.
 But what our big 'national' museums and galleries can – and should – do is try their hardest to ensure that their permanent collections are as accessible to the whole of the 'nation' as they can.  Tate's annual report, published this week too, tells an impressive story.
Going from strength to strength
We learn, for example that Tate lent 791 works to 149 different UK institutions last year.  They also raised £23 million to acquire John Constable's Salisbury Cathedral from the Meadows and are currently touring it around the country under the Aspire programme, so that it will be seen in five different UK institutions having started at the National Museum of Wales in Cardiff last March.  The 'Artist Rooms' project, described by Telegraph art critic Richard Dorment as 'the most important thing that has happened in the art world in this country in my lifetime,' has also gone from strength to strength.  This initiative, where Anthony d'Offay's huge modern art collection, donated jointly to Tate and the National Galleries of Scotland, has been divided into room-sized displays and toured around the whole of the country, has now been shown in more than 60 venues and been visited over 30 million times in just over five years.  And that's more Olympic Stadiums full of people than I care to calculate.
Big ticket items
And now they're taking all this a step further by agreeing to lend the real big-ticket items from the permanent collection to regional galleries.  So Tracey Emin's My Bed is going to Margate, Picasso's Weeping Woman will go to Newcastle – and later to Chichester – and Matisse's The Snail will go to Liverpool.  Hockney, Lichtenstein and Kandinsky among several others will be shown in Norwich, Manchester and Middlesbrough respectively.
I could go on.  But the point is, that here is a UK gallery with a richly-deserved reputation for excellence taking big and positive steps to spread their collection around for the benefit of everyone.  Tate deserve a pat on the back for taking the initiative on this and I am pleased to do it.