There's never been a better time to promote why Britain is such a fantastic destination to visit, soak up the culture and invest in. That's why this week I'm taking the message to India that Britain is keen to develop stronger, wider and deeper partnerships.
Since I arrived it's been plain to see that our two nations' cultural relations are strong, from supporting each others' rich heritages to multiple collaborations in the creative industries, and this was the underlining theme at last night's Culture is GREAT reception.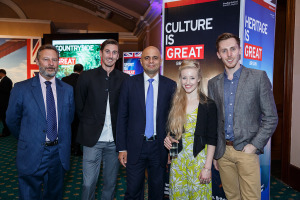 Yesterday began on a more poignant note, with a moving visit to the Bhowanipore Commonwealth War Graves Cemetery in Kolkata, where I spoke about the need to recognise the sacrifices made across the Commonwealth during the WW1 commemorations taking place over the next four years.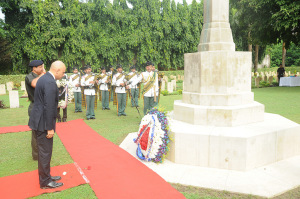 Sporting passion
Like Britain, India is passionate about sport, so it was no surprise to be greeted by legions of energised young footballers at the Kolkata Police Stadium, where I helped kick-off the Orient Girls Shiksha Kendra Kolkata Goalz programme, which is the next stage of the joint Premier League and British Council GOALZ initiative in Kolkata. Since 2011 this project has inspired over 1,000 young people by helping communities through sport, and the enthusiasm for the project at the event was palpable amongst players and volunteers alike.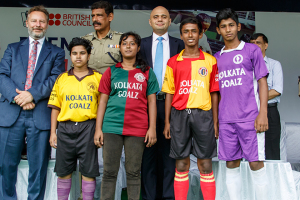 Next stop was the National Library of India to talk about all things cultural during a museums roundtable event. High on the agenda was a focus on how Britain can work with Indian partners to improve access and conservation, followed by an inspiring discussion on how digital technologies can help shape the museums of the future. And in looking to the future we also looked to the past, as we were shown a selection of beautiful Indian manuscripts dating back more than 800 years.
Business is GREAT
Business opportunities were at the top of my agenda during my next meeting with Chief Minister Mamata Banerjee and the Finance Minister of West Bengal, where we discussed plans for a London eye style tourist attraction on the Kalkata river front. The day ended in glamourous style with a tour of a Tollywood film set, culminating in me being 'papped' alongside famous actress Rituparna Sengupta.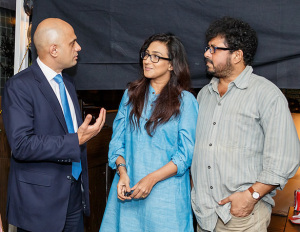 Today I am turning my attention to a range of inspirational GREAT (in both sense of the word) initiatives and events happening across India, showing why Britain's culture and creative talent is truly world class.
Further information
You can follow my visit on Twitter via the #SajInIndia hashtag and through a dedicated DCMS Storify.