Any idea where you were twenty years ago this weekend? Still at school? In college? Some of you, of course, may not even have been born. Me, I was married with a two-year old, working as a lawyer in Wimbledon and thinking about setting up my own family law practice.
To be honest, the fine detail of that frantically busy period of my life is a little blurred, but one thing I do clearly remember from that week was settling down on Saturday night, along with more than 20 million others, and watching Noel Edmonds present the very first National Lottery draw.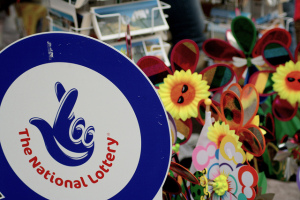 Public imagination
Unsurprisingly, it never entered my head for one second that, 20 years on, I'd be the government minister responsible for overseeing it. But here I am, and I'm very happy indeed to report that the institution born that evening is still going strong and, better yet, it shows absolutely no sign of losing its grip on the public's imagination.
Setting aside the millionaires that have been created over the years and the money taken by the Exchequer to help public investment, not to mention the SME corner shops and newsagents who have been kept in business thanks to the commission on ticket sales, the most important part of the Lottery for me is the 28 pence in each pound spent that goes to good causes.
Mind-blowing
And the sums raised here are mind-blowing. Players raise £33,000,000 each and every week for the causes, which is a little under £5 million per day or, according to my calculator, an extraordinary £54.56 every second of every day and night. In the time it took you to read this far, the best part of £3,000 has been raised by the National Lottery for the arts, sport, heritage and the Big Lottery Fund that benefits charities, voluntary groups, environmental and good health projects.
Quite simply amazing
This is quite simply amazing. Put these figures together across the 20 years that those balls have been tumbling in the draw machines, and you get to a total raised for the good causes of thirty two billion pounds.
Yes, that's right. £32,000,000,000!
I'm spelling it out in words and figures because it is such an astonishing and wonderful sum. Where has it all gone? The answer to that is to be found in the 450,000 individual grants that have been made, representing an average of 144 awards per postcode district.
But that's enough of statistics. My message today is a very simple one. Many, many happy returns to the National Lottery, a brilliant idea and a British success story that week-in and week-out gives us harmless dreams of becoming an overnight millionaire, and does a colossal amount of good as it does so.