I came back from my Women in Sport conference last Thursday with a spring in my step. There had been a real buzz in the room and a brilliant set of contributions in the discussions. The media had been out in force and, as I switched on my lap-top, I discovered it was trending on Twitter.
No surprise, really, as the line-up we'd got to come along read like a Who's Who of the most influential women in sport today.
A shift in the world of sport
British Fed Cup Team Captain Judy Murray, 2013 Wimbledon Singles Champion Marion Bartoli, BBC Director of Sport Barbara Slater, England Rugby 2015 Chief Executive Debbie Jevans, Sport England chief executive Jennie Price, UK Sport chief executive Liz Nicholl, Women in Sport chief executive Ruth Holdaway and BBC presenter and commentator Jacqui Oatley.
I'd hate to jinx it all by being over-confident but as I sat, getting my breath back in a green room after what was the last interview of the day with BBC Radio Five Live, I couldn't help but think that we had maybe – just maybe – seen the beginning of a shift in the world of sport. The future really could be getting brighter for women's sport.
You may have read elsewhere that I have loved sport all of my life and see it as a real force for the good. And not just because of its benefits for health and fitness – that's a no-brainer – but also for the self confidence and self-esteem it can provide, and all of those important life skills that come along with it. Like leadership, teamwork, discipline and respect.
Evangelical about promoting sport for women and girls
So now I have the privilege of being UK Minister for Sport, I'm pretty evangelical about promoting it, especially for women and girls.
It worked well for me and, as I go around seeing both the sporting elite and the ordinary people getting involved at the grassroots level, I can see it working for so many others too.
But getting more women and girls to take part is not easy. Government can help to create the conditions that will help, but in the end it also needs inspiring teachers, switched-on local authorities, sports bodies who are prepared to think laterally sometimes, and of course supportive families.
But there's something else as well, I think. We need to listen. To listen to what women and girls actually want – and, just as importantly, what they don't want – and if at all possible give it to them.
Sport that fits with busy lives
Exercise classes and organised games have to be at a time, and in a place, that fits with busy lives. Bureaucratic solutions may be neat and tidy but, if they don't mesh with the way real people live, there'll be some very empty gyms, sports pitches and tracks, and a sense of disappointment where there ought to be bubbling confidence
So, alongside the conference we also published a report from our advisory panel, giving a snapshot of the progress made on women's sport since its creation just over a year ago in my five priority areas.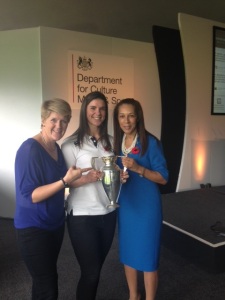 Five priority areas
These are: increasing women's participation in sport, improving the media profile of women's sport, growing commercial investment in women's sport, boosting women's representation in sports leadership positions and the workforce, and encouraging greater recognition for women's sporting achievements.
We have made good progress, and the palpable feeling of optimism – and the sense that something was actually happening – from those in the room was a wonderful thing.
One thing we all agreed on though was the huge influence that success at elite level has on the take-up of sport at the grass roots. Nothing, they say, succeeds like success and women's sport has certainly had its fair share in the last 12 months.
And this year (off the pitch and track) we have also seen good progress from Sports Governing Bodies in women's sport. Our rugby players and cricketers' success has led to a number of them receiving full-time contracts. Our cricketers signed an important sponsorship deal with KIA Motors, and British Cycling appointed two great women onto their board.
Proper recognition
All of this is proper recognition (at last) of the important contributions women are making to sport.
But for all that, we should never forget that there's plenty still to do. Yes, the tide is turning and there are record numbers of young women aged 16-25 doing sport at least once a week. But overall there is still a gap of two million between the number of men playing sport and the number of women, and this difference is something that we must continue to address.
Buoyant
But the mood after the conference was buoyant and for my part I am very optimistic about the future. The Olympic and Paralympic Games in London inspired so many people to take up sport and, as more major sporting events come to the UK, this can only increase.
Thanks to the National Lottery, more money is being spent on sport than ever before, and that in itself is a reason to celebrate.
I will always champion spending on sport. Why? Because I know from my own life what an impact it can have on people's lives.