Sometimes you come across a story that doesn't quite have the ring of truth about it. You know the sort of thing. A new way of losing weight that doesn't involve either eating less or doing more exercise. A face cream that promises to make you look 15 years younger. Very often the date at the top of the page – 1 April – confirms your suspicions.
But a press release a few days ago from Visit Britain, announcing that Chinese tourists were to get the chance to rename British Landmarks, was the real deal.
Huge Stone Clusters
The idea is a simple one. It turns out that Chinese people like to give names to places and people in the form of a literal description of what the people associate with the place or person in question. So Stonehenge is known as Ju Shi Zhen which translates as 'Huge Stone Clusters', and Buckingham Palace becomes Bai Jin Han Gong which means 'A white, gold and splendid palace.' So far, so straight-forward. Some, however, are more off-beat.   Mr Bean is Han Dou, meaning 'Funny Beans' and The Beatles are Pi Tou Shi which, delightfully, translates as 'Gentlemen with Long Hair.'
VisitBritain are building on this with a campaign – 'GREAT names for GREAT Britain' – which uses local social media, to get ordinary Chinese people to nominate names for 101 British points of interest. This is clever because it's a way of getting the Chinese to think in terms of Britain as more than simply an amazing city called London, but to look beyond the capital at some of the places – and British ikons, if that's the word – they might consider experiencing as well.
Cornish Pasties and the Grand National
So Chinese descriptive expressions will be sought for places like Snowdonia, Brighton Pier and Hadrian's Wall; and British institutions like Haggis, Cornish Pasties and the Grand National.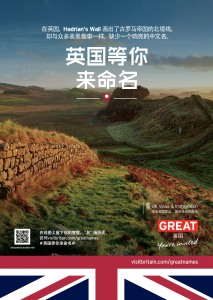 The campaign is suitably joined-up too, with VisitBritain partnering with UK Visas & Immigration (UKVI) and Home Office on the campaign. There'll be advertising and online activity, with UKVI will providing helpful information on the ease of applying for a visa, and the range of services available for Chinese customers, including the UK's unique super priority visa, where customers can receive one within 24 hours.
Good News in Any Language
And what's in it for those Chinese who post their ideas for names? They'll end up on the campaign microsite, where those with the most 'likes' will win prizes and the chance to have their names recognised in Britain. The winners, to be announced next year, will also pick up prizes including an all-expenses-paid trip to Britain to see the newly named points of interest for themselves.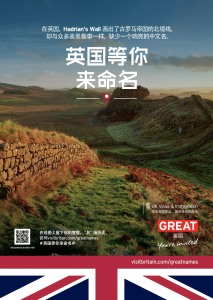 So three cheers for Visitbritain. A great idea – or a GREAT idea, to be strictly accurate – that could lead to more good news for our economy. Last year saw 196,000 visits here from China, an increase of ten per cent on the year before. And while they were here, those visitors spent a tidy £492 million, two thirds up on the last figure. That is good news for our long-term economic plan in any language.