North Tyneside has benefitted from over £5m from the Coastal Community Fund, including more than £4 million towards developments in the seaside town of Whitley Bay. Patrick Melia, North Tyneside Council's Chief Executive, explains what this means for the community:
This latest news of an further £2 million for North Tyneside from the Coastal Community Fund (CCF) means our borough has now benefitted from over £5 million from the Fund – which is simply fantastic.
This includes £1.2 million in Round One towards an impressive new seafront plaza and performance amphitheatre in front of the Grade II listed Spanish City Dome on Whitley Bay's coastline, plus £1.125 million in Round Two to create commercial space within the Dome as part of its restoration and renaissance, plus an attractive landscaped visitor car park at the site.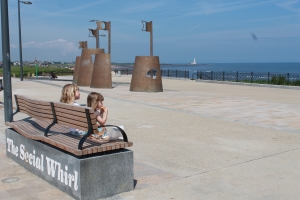 The seafront plaza and amphitheatre was completed last spring and has transformed the area in front of the Dome, providing a really attractive walkway and performance space. During the summer of 2014 it offered the perfect setting for a packed programme of performances and events – ranging from afternoon jazz to food festivals. The events were such a success that we're planning an even bigger and better programme for this year.
The Spanish City Dome, built in 1910, is synonymous with Whitley Bay and despite closing to the public in 2000, has continued to live on in the hearts of minds of generations who've enjoyed its charms; from the couples who danced in its ballroom to the children who played beneath its shadow on Whitley Bay beach.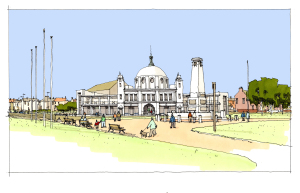 During the '70s and '80s, the Spanish City became part of a regionally-renowned funfair – which featured in the Dire Straits' hit 'Tunnel of Love'. In tribute to this connection, our new plaza's circular amphitheatre area is etched with lyrics from the song. It's a wonderful addition and you can see how visitors are touched when they first encounter it and make that memorable connection. The funding also enabled us to create special seats for the Plaza area which carry the names of well-known rides from the fair. When we designed the plaza, we felt it was really important to include these nostalgic references to Whitley Bay's history, as we know a lot of people come back to the area time and time again because of memories that were made here.
Our next job is to regenerate the Dome itself and bring it back into full use and we're already making great progress. The Dome and Plaza combined will create a unique visitor destination and focal point on North Tyneside's coastline, becoming the centrepiece of a £30 million investment in the wider coastal area. We'll be using Coastal Community Funding to develop exciting, seafront-facing retail units within the Dome, and have already seen some really interesting ideas from businesses keen to take advantage of these unique opportunities – so watch this space!
This latest news of £2 million of Coastal Community Funding to support the Dome's future is a huge boost and will make a significant difference. We can't wait for the Spanish City Dome to re-open and reclaim its place as the jewel in our coastal crown, once again.