HLF's Historic Environment Advisor, Ben Greener explores how the Heritage Lottery Fund is helping to conserve and understand the nation's war memorials.
There are over 100,000 war memorials around the UK – including monuments; rolls of honour; gardens of remembrance, memorial clocks, windows, bells and more – quietly reminding us of an incredible sacrifice.
As the nation commemorates the lives lost during the First World War, these memorials provide a focal point for remembrance. In April, the families of those who fought on all sides during the Gallipoli Campaign will come together at the Cenotaph in London to recognise the sacrifices made a century ago.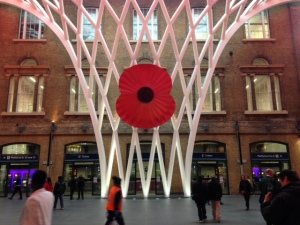 But as well as important tributes to the fallen, many memorials are personal windows to the past. The names displayed on them are the names of real people, who lived real lives. This fact was brought home to me recently when traveling through the newly-redeveloped Kings Cross station, where the old memorials have been given pride of place in the new concourse.
I stopped to study the marble tablets, which have been relocated in a row of gleaming steel frames, designed to echo the eleven soldiers depicted by John Singer Sargent's well-known 1919 painting 'Gassed'. Hundreds of names – signal men, train drivers, ticket collectors, porters – all very real people. It's a moving sight.
Many thousands of railway employees fought in both World Wars. And, tragically, many lost their lives. Today, from London Waterloo to Edinburgh Waverley and beyond, their names live on in station memorials. It's just one small snapshot of war and remembrance, highlighting how loss and tragedy has touched almost every aspect of society.
It is these stories behind these war memorials that we at the Heritage Lottery Fund are keen for people to explore.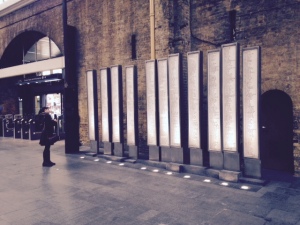 It's important that we continue to fund the conservation of war memorials, and since 1994 we've invested over £35million in projects that specifically include the repair and maintenance of war memorials. But we have also funded projects that explore the stories behind the names and examine the impact of war on the cities, towns and villages in which they stand. These stories provide depth and meaning to memorials, and help more people to understand their significance.
Recent projects we've funded include:
An innovative project led by Powys County Council is being announced today that will help to maintain the county's 276 war memorials – which include 13 listed buildings – as well as identify those that have been lost or forgotten.
The discovery of a long-forgotten war memorial commemorating men from Gateshead who died in the First World War.  The two-tonne marble tablet was found in 2006 in a corner of a council depot. Our funding is not only putting it back on display in a new home, it is enabling local people to explore the story of Private George Wood, one of the 27 soldiers it commemorates.
Families in Denbighshire, who are learning about relatives who fought and died in both World Wars and the Boer War and whose names are listed on three local war memorials in Llangollen, Froncysyllte and Garth.
War memorials are clearly a rich part of our cultural heritage, providing a direct link to events in the past that shaped the world we live in today.  It's important that we keep them in good shape and let their stories live on for future generations.
UK War Memorials launched today.  It's an incredibly useful tool providing people with expert guidance on how to record, research, conserve and secure listed status for their local war memorials.  And, if you have a great project idea, take a look at HLF's website for more information on the kind of projects we can fund.