May Bank Holiday Week Blog from Nick Lomas, Director General of The Caravan Club
The great British outdoors gives us so much fun, exhilaration and enjoyment. So as we plan our May Bank Holiday weekend, and for many the half-term week as well, it's worth considering the freedom that caravanning offers.
 If you had to define the spirit of caravanning in one word 'freedom' would be a good start. Ever since the somewhat eccentric Dr Gordon Stables took to the highways and byways of Victorian Britain in his custom-made 'land yacht', The Wanderer, in 1884, caravanning has captured the imagination of many of us. It's a word that keeps cropping up now whenever we ask our members what drew them to caravanning, and what keeps them doing it.
The ability to move with the good weather, pick the perfect location from literally thousands of sites across the country while avoiding the stresses often associated with air travel and the constraints of a hotel timetable, are all compelling arguments for touring holidays. A fact underpinned by the 1.7 million people that comprise the UK's caravanning community and the growth of its 'glamping' offshoots such as luxuriously appointed yurts, treehouses, shepherds' huts and camping pods.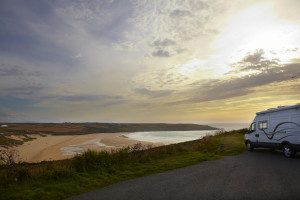 A typical caravanner?
So what does a Caravan Club member look like? With a million members, caravanning has a broad appeal to people from all walks of life and across the demographic spectrum. Retired people who are unrestricted by such considerations as annual leave can 'holiday' when the mood takes them and the weather forecast looks promising. Families are rediscovering the delights of outdoor adventures – from rock pooling to den building, and expeditions on bikes or on foot, with picnic treats at the ready. Festival goers too are finding out that having a part share in a caravan or camper van offers more comfortable accommodation and a useful way to avoid the mud!
Where shall we go?
We've recently teamed up with industry colleagues at the National Caravan Council (NCC) and the Camping and Caravanning Club to launch a campaign called 'Freedom to Go' (www.freedomtogo.co.uk), which is designed to get people thinking about caravanning as a holiday option, and break down any barriers or misconceptions they might have.
So as Caravan Club sites across the country fill up and our friendly site staff prepare for a busy holiday week, not to mention those long sunny summer days ahead, check out our website at caravanclub.co.uk and get inspired!