Today's blog comes from Sir Michael Dixon, the Director of the Natural History Museum in London, who dons his virtual reality headset to take us on a 3-D journey through Sir David Attenborough's First Life.
Today saw the premiere of David Attenborough's First Life at the Natural History Museum, a virtual reality dive through the ancient oceans showing the dawn of life 540 million years ago. In this latest example of Sir David's compelling storytelling, he brings to life fossils from the Natural History Museum's collection of 80 million specimens as never before.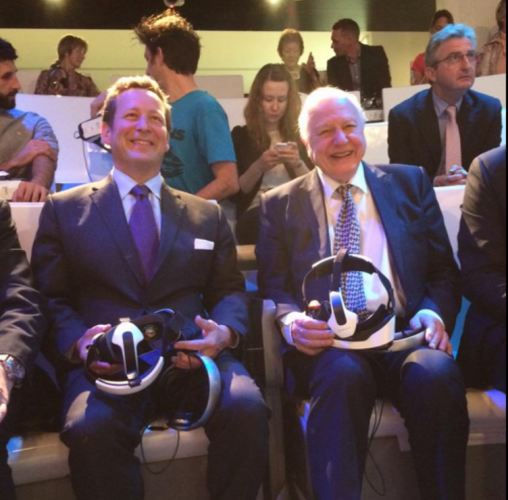 I was thrilled by the creatures that we saw in First Life, from the whimsical Opabinia to the impressive predator Anomalocaris, to eight-foot long sea scorpions. This is a fantastic, engaging way of visualising long-extinct species in a scientifically accurate manner.
It is only through collaborating with Atlantic Productions and Samsung that the museum can bring state-of-the-art CGI, 3D technology, and cutting-edge scientific research together for this experience, the first of its kind in a public museum. Together we've created a visually impressive way of getting the public interested in science, and in the diversity of life on our planet. This interest can support our collective ability to navigate and interpret the many problems that we face as a species, including climate change, natural disasters, new diseases and food shortages. Memorable experiences such as First Life may help to inspire the next generation of scientists and make an important contribution to the creative industries.
Seeing our specimens being interpreted as they are in First Life reinforces my belief that we need to continually seek innovative ways to use collections to challenge the way in which we think about the world. The national collections have always inspired creativity and contributed to new knowledge, underpinning this country's international status as a creative and digital leader. Continuing this tradition, we can now transport people to impossible places, using virtual reality to foster a deeper understanding of our planet. Virtual visits to museums themselves also seem increasingly possible, making their physical location less of a constraint. When people can see so much from home, the value of the museum itself lies in its authenticity and relevance.
This might lead Traditionalists to question the need for technical wizardry. It's true that seeing an object from history or original work of art can be a crowd-puller. When admiring the sheer size of a blue whale, examining the details of meteorites from the furthest corners of our solar system, or contemplating the bones and evolution of our ancestors, nothing beats seeing the real thing.
Nevertheless, digital technology is opening up museums, making collections more available to the world. Increasing access not only offers wider enjoyment and appreciation of scientific knowledge and artefacts. Making the collections themselves available to researchers online fosters the democratisation of science, expanding the workshops of research from the corridors of South Kensington to the labs and offices of scientists on every continent. This is a time of extraordinary opportunity, promising a way to revolutionise exhibitions as well as research.
Museums need collaborators to help push the boundaries of what we can do. It was only through our scientists' close collaboration with the visual effects specialists at Atlantic and the technology experts at Samsung that the creatures in First Life came alive on screen. Partnerships with the private sector are how we will achieve our ambitions to inspire an even larger audience.
Today's children – tomorrow's scientists – are growing up with iPads and 3D television as a seamless part of their world. Keeping on top of this rapidly evolving technological reality is a real challenge. Equally, the prospect of these technological advances offers us the potential to unlock answers to questions as yet unknown.