The UK's Creative Industries provide some of the most rewarding, exciting jobs anywhere. They're driving growth in our economy and adding hugely to the reputation for dynamism and creativity that people all round the world associate with our country.
And the good news is that they're booming, so it's a time of huge opportunity for people with the right mix of skills and experience.
The Creative Industries Council (CIC) strategy *Create UK identified the need to find ladders of opportunity for people into the creative industries and creative occupations in the wider economy. Since working in the CIC we along with partners like Creative and Cultural Skills and numerous employers have put our shoulder to the wheel to match skills and training to the industries need to widen opportunity.
Creative Skillset works across film, television, radio, fashion and textiles, animation, games, visual effects, publishing, advertising, marketing communications and performing arts. We connect industry, individuals and education and training providers to ensure the UK creative industries are populated by the best skilled people possible and thus maintain their great position.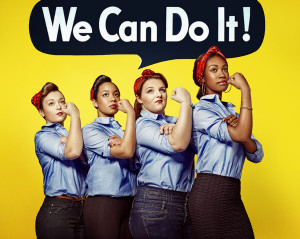 So how do you get your foot in the door?
You can find on our website the range of careers available in the industries we work in, you'll be surprised at the types of roles you hadn't even thought about!
You can look at the range of careers, training and qualifications that will help you land the job you're dreaming of. And to navigate further we award the Creative Skillset 'Tick' to degree courses and apprenticeships that will make you work ready. You can get an insight into the working life of some apprentices here including; Lorraine Mclaughlin now an apprentice at Degree 53, and Natalie Collings in Fashion and textiles at Engine Room in Bridgewater.
We have researched the market and found that by completing a Creative Skillset Ticked degree you are three times more likely to get a job in your chosen field.
There's no better place than Hiive, the network for creative people, to showcase your skills to recruiters. And if you've done a Ticked course, you'll be badged on Hiive to stand out from the crowd.
Hiive is also the home of Trainee Finder, a service that matches trainees with companies across the UK's animation, games, film, high-end TV and VFX industries. Apprenticeships are another great way to break into the Creative Industries. And all year long we offer ways to sample these amazing roles at Open Doors events such as one at the digital creative studio Holition in London next week.
So come and join us!
Dinah Caine CBE is the Chief Executive of Creative Skillset and Chairs the CIC Skills group