Marking one year to go until the Rio Olympics, Scotland's Gold medal winning gymnast Dan Purvis talks about his preparations and bid to make Team GB 
I can't believe it's only a year to go to the next Olympic Games!
Training's going really well at the moment; a lot of clever training is needed when you get to my age, 24 is pretty old for a gymnast! So it's about managing your body, two sessions a day with lots of rehab and building up routines towards autumn. I've got the experience having been a senior gymnast for a while and know how vital this preparation period is when it comes to major competitions.
It's been a really encouraging year for me so far. I'm back doing all-around so all six apparatus – pommel horse, rings, floor, vault, parallel bars and high bar. My aim is to really progress my skills on all apparatus and to take my parallel bars up another level as that's one of my best pieces and one that individually I know I can aim for a medal on at international competitions.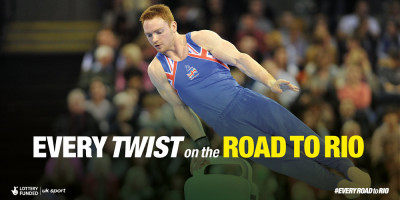 The main priority for all of us now is getting in the best shape with the best routines for the World Championships in Glasgow in October – our qualification event for Rio.
It's going to be difficult just to make the GBR team as we have brilliant gymnasts and a lot of lads challenging for places at the Worlds. Hopefully I've placed myself highly in the reckoning and can go as an all-rounder and do a job for the team and get us to the Olympics.
To be back competing in Glasgow will be amazing. Last year's Commonwealth Games competing for Team Scotland and winning two medals was unbelievable and the home crowd can definitely make a big difference to us again at the Worlds.
Until then I'll continue to train hard at my club and at Lilleshall National Sports Centre where I spend about four days a week. The support at Lilleshall in terms of coaching, physio, rehab and the facilities in general are world-class and have been a key factor in my development as a senior gymnast. The whole of the Great Britain gymnastics set up supported by National Lottery and UK Sport has gone from strength-to-strength in the last decade and we're continuing to break records and take our performances to another level due to that support.
Looking further ahead of course Rio is on all our minds but we know we have to perform in the events leading up to it first. To make another Olympics would be incredible and to win another medal for Team GB would be a dream come true!
Find out more about UK Sport's Every Road to Rio campaign