I've loved playing sport for as long as I remember – football, of course, as you might expect from the presenter of Football Focus, but all sorts of other sports too.
I've been privileged to have a job that has taken me to some of the world's best stadia, as well as the training grounds of top clubs in the UK, Spain, Italy & Germany.  It's fair to say I have seen some unbelievably plush footballing facilities.
But, I've also played football on some shocking surfaces and witnessed poor facilities first hand.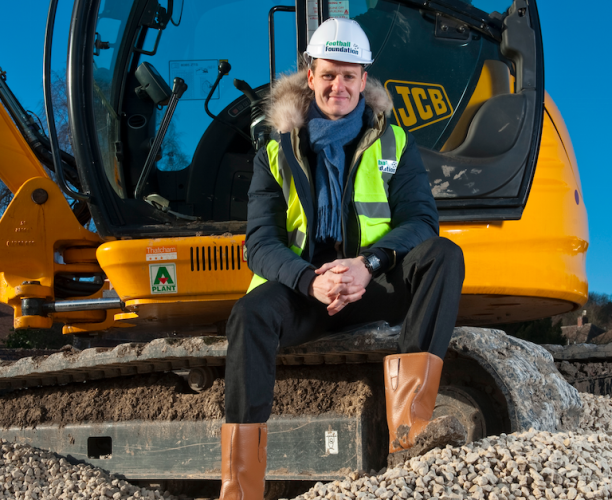 In my role as an Ambassador for the Football Foundation – the charity that invests money jointly provided by the top of the game and government into improving grassroots sites – I've seen the massive effect that improved facilities can have on encouraging people to get active through sport.
I live in Sheffield and watched the stunning transformation that took place at Wisewood Sports Centre.  It was a building site when I first visited it to present a £150,000 cheque from the Football Foundation.
Six months later, there were hundreds of youngsters from local schools enjoying football, and other sports, on a top quality artificial playing surface.
Insufficient – or simply naff – facilities consistently tops surveys as a factor that puts people off playing regular sport.  We all know that in the ongoing battle for people's time a boggy pitch and mouldy changing rooms are not the best ammunition.
The Football Foundation has seen huge increases in participation at upgraded facilities. We know there is massive potential for properly-targeted facilities investment.  More people playing sport in quality venues is critical if we're going to develop more home-grown talent.
It's encouraging that the DCMS recognise the importance of facilities to their new strategy by dedicating a whole section to infrastructure.
This is first time in over a decade that the government has consulted on how sport is funded and run in this country, so this is a genuine opportunity to feed that discussion with your views.
Make sure you have your say on what should be done about facilities and a whole range of other key issues that affect sport in this country.  You have until Friday 2 October!