Today marks a significant anniversary in the history of the campaign for equal rights. The UK Suffrage movement pioneered democratic dissent against inequality laws and attitudes, championing the rights of women to vote and stand as MPs.
One hundred years ago today Parliament passed The Representation of the People Act, the first step to women being able to vote. This allowed women over the age of 30, who also met a property qualification, to vote. Although 8.5 million women met this criteria, it only represented 40% of women in the UK at that time.
It was a further 10 years until the Equal Franchise Act was passed that women finally achieved the same voting rights as men by being allowed to vote from the age of 21. This act increased the number of women voters to 15 million.
Over the last 100 years both women and men have campaigned tirelessly to make the dream of equality a reality. Be that in terms of race, sexuality, pregnancy and parenting, disability, age, being or becoming transsexual, or marriage and civil partnership.
Supporting people to be themselves
In the Civil Service we are striving to be the most inclusive employer, so that everyone who works here feels valued, supported and able to be themselves.
And here at DCMS we are proud to have been part of the process for change. Perhaps most significantly in successfully sponsoring the Marriage (Same Sex Couples) Bill through Parliament in 2013.

And diversity is rightly a key priority for our sectors, whether it is sport, digital or culture.  For example, the Sports Governance Code, brought forward by Sports Minister Tracey Crouch, has ensured that publicly funded sports national governing bodies commit to at least 30% of each gender on their boards.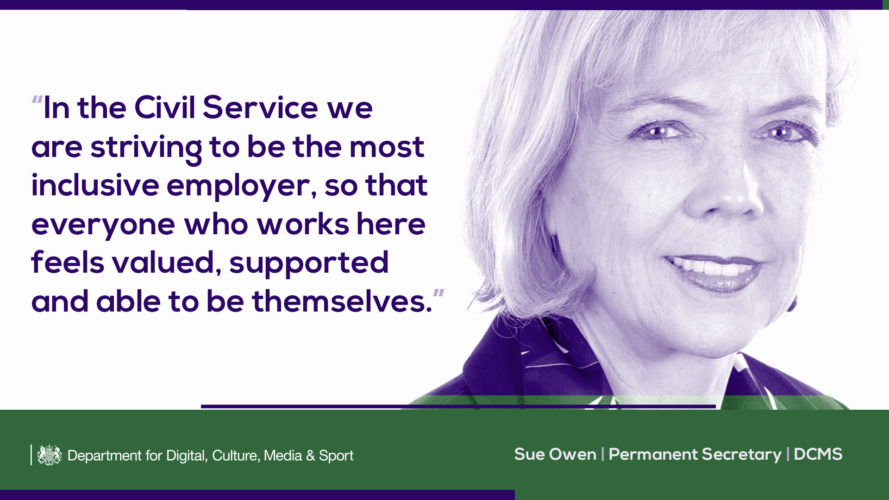 Championing women
The continuing rise in the popularity and profile of women's sport recently has also been great to see. And it is encouraging that equality in pay between sport women and men is improving, but of course there is still more work to be done to put women's sport on the same footing as men's.
The tech sector is a rapidly growing area in the UK. However, there remains a gender imbalance in tech, with women under-represented. That's why we've pushed to get the whole of Government to sign up to the Tech Talent Charter. The Charter shows that by working together we can achieve a diverse and inclusive workforce. Over 125 companies, from international tech giants right through to start-ups, SME's and charities have already signed up.
We've also been encouraged to see our partners join together to promote further diversity. The National Cyber Security Centre (NCSC) has now launched a second round of the CyberFirst Girls competition which will give the young women of the UK a chance to explore the world of cyber security. This will ensure women are better represented in the cyber workforce of tomorrow – another sector that is growing at pace.
Today is a day when we can reflect on the debt we owe to the women who campaigned for the right to vote 100 years ago. We now have a record 208 women MPs in the Commons, up from 191 in 2015. But this is still just 32% of the total.
The participation of women at all levels of politics and public life is crucial to society. Milestones like today are a great chance to not only celebrate how far we have come in the past century but also to recognise that there is still some way to go.