As a community Bank, with a brand rooted in helping local people for more than 200 years, TSB understands the crucial role that local charities play in communities up and down the country. Since last September, Partners in our branches have raised over £575,000 for the 450 local charities they support. That's why on Friday 14th December we're supporting Local Charities Day to celebrate the great work of these organisations and the impact they have in the communities we serve.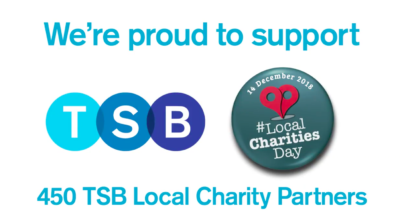 Across the country, in hundreds of TSB branches, local charities will be sharing what they do and have a further opportunity to raise vital funds – and we'll be there to help them. In the Meadowside Branch in Dundee, the TSB Choir will be singing to support the local MS Therapy Centre. Our team in Leicester, who this year have done a sponsored 10k walk, a tombola and Christmas Card Sale have raised £2,500 for LOROS, a local hospice in their community. In Ashford, Kent, the team are welcoming Hypo Hounds into branch to raise awareness of their work turning pet dogs into life saving diabetic alert dogs.
Small local charities may not have the presence or branding of national or international charities, but they are part of the lifeblood of communities and we know our Partners and customers really value the contribution they make, often with personal experience of their work.
Investing in communities
So that's why this week we're beginning to announce the local charities that have won a TSB Local Community Fund donation of between £1k – £3k to support their work in 2019 and beyond. We're contributing a further £150k to support these communities.
So whether you're a TSB customer or not, pop into your local TSB branch on Friday to find out more about your local charity partner, support their work and, together, we can help our local communities thrive.

Get involved in Local Charities Day